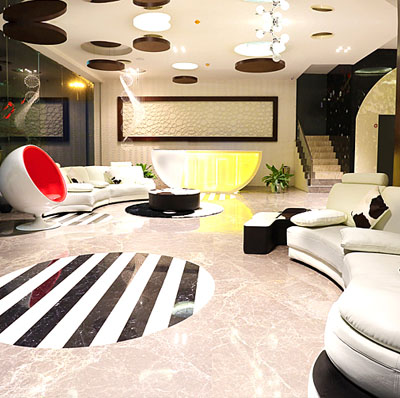 About
Us
---
---
The Orbis, a boutique hotel is located in the most prime location of Coimbatore, Hope College, Peelamedu with very close proximity to Tidel Park, Airport and Codissia, is well suited for business travelers. Situated in the National Highway of Avinashi Road, it's just a stone's throw away from Coimbatore Tidel Park.
"The Orbis" is an iconic landmark of the neighborhood, offering a choice of 48 well appointed rooms and suites, is prominently located on Avinashi Road, Coimbatore.
The hotel is at a convenient distance of :
0.5km to Tidel Park,
3kms from Coimbatore Airport,
3kms to Codissia,
0.5 km to Fun Mall,
3kms to Peelamedu Railway station and it is in close proximity to the business, educational and financial hubs of the city.
The hotel is a harmonious blend of modern-day aesthetics with well renowned warmth and comfort. Taking personalized service to a whole new level, the hotel offers an iconic facade which is further enhanced by the contemporary decor.
Passionate Hospitality
"The Orbis" is inspired by its motto 'Passion for Hospitality', where we strive to provide the best service and hospitality to our guests. With our renowned butler and concierge services you will definitely feel pampered.
We are focused in providing quality services, excellent ambience with high standards and providing our customers warm & caring hospitality at affordable rates.
A welcoming stay in the heart of Coimbatore
Located in the most fashionable neighborhood of Coimbatore, 'The Orbis' has not only proven to be as distinguished as its surroundings but has also earned the distinction of becoming the iconic landmark. Prominently located on Avinashi road, the hotel is at a convenient distance of 3 Kilometers from the Coimbatore Airport and is in close proximity to the business and financial hubs of the city
Refined Design and Boutique Artistry
Among the business class hotels in Coimbatore, 'The Orbis' echoes the city's comfortable amalgamation of heritage within a modern reality. The hotel has been tastefully constructed to add an element of today's modern day aesthetics and seamless blend of classical decor.